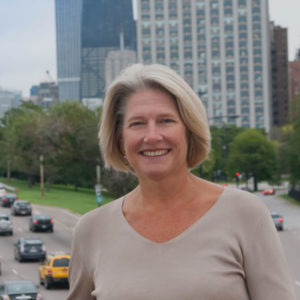 Jenny is an independent consultant with over 20 years of experience in financial services and nonprofit organizations.
Prior to working with CHRC, Jenny was a vice president at The Clearing Corporation, a risk management and derivatives clearinghouse, where she was responsible for Human Resources. She established their first competitive compensation program, aligned employee performance with business strategy, and redesigned the corporate benefits package.
Jenny is a member of the Chicago Society of Human Resources Management, the Chicago Compensation Association, the Arts and Chicago Council on Global Affairs. She volunteers with WorldChicago and Northwestern Memorial Hospital.
Jenny has a B.A. from the University of Virginia, an M.B.A. from Loyola University Chicago, and a Certificate in Nonprofit Management from Northwestern University's Kellogg School of Management.